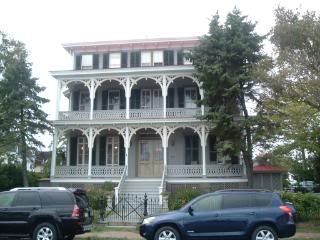 A loop convo brought up Cape May, NJ.  This quaint Victorian seaside town on the southern point of New Jersey used to be a romantic getaway for the hubby and me.  We started going shortly after our second child's birth.  At first, we would visit in September when the summer crunch waned a bit.  We had the beach to ourselves, but we also had fewer shops, restaurants, etc.  Oh, but the romance still embraced us whenever we'd stroll along the quiet streets.  Cape May has so many Victorian homes, the entire town is a historical landmark.  For those who love historical romances, I highly recommend fitting a weekend here during the year.  Anytime.  In the summer, you'll have the beach and hustle of a seaside attraction.  Why bother going to a dolphin pool in Florida when you can swim with wild dolphins and minky whales in Cape May?  Surrey covered bikes for four and horse and buggy rides are a nice way to explore during the warm days and nights.
During the fall, plan to visit in October.  For Victorian buffs this will surely become an annual event you'll visit again and again.  The entire town goes Victorian.  Homes open up to the public with teas while the owners — usually dressed in historic garb — regal you with tales about the town.  So many of the townspeople stroll around in Victorian costumes, you wonder if you entered a time warp.  During the holiday season, fireplaces light up in homes outlined with lights.  Close your eyes and imagine a painting of a Victorian house with lights.  Now, imagine an entire town of twinkling historic homes. 
No matter the time of year, bring along your bikes or be sure to rent them there. Visitors rarely use their cars once they arrive.  I am not much of a hiker or biker, but a bike ride or stroll around town quickly became my favorite pastime.  There is so much to see and do.  A bird sanctuary, fireworks, speedboating, arcades, a zoo, fireworks.  The list goes on and on. 
You can stay in a bed and breakfast, a guest house, victorian hotel or inn.  If you like to look at historic buildings but have no desire to stay in one, modern motels offer ocean views and pools.
At the end of the day, Cape May has so many great restaurants, you'll wish your stay was longer just so you could try them all. The Lobster Pot is a favorite with fresh seafood taken right off the boats.  Great chefs spend their summers at Cape May's restaurants, restaurants that offer standard burgers or gourmet samplings.  After dinner, catch a ghost tour.  With so many historic buildings, the ghostly apparations abound!  Even I had an experience while there!  (While cooking in our apartment at The Columbia House, a package of hamburger rolls flew off the top of the fridge and landed on the other side of the room!)
I love Cape May, but we did stray out of town from time to time. Wildwood is less than fifteen minutes away and offers a multitude of amusement parks along its piers.  Another nearby attraction is Atlantic City.  Or hop on the ferry and visit the outlet center in Delaware. 
I intend to revisit Cape May.
So, check out Cape May, NJ.  Grab a hunk and spend a weekend in another time.